The Pogi team Uae Generali team met on Sunday 12.3. took part in the first race of the new season with the senior junior category.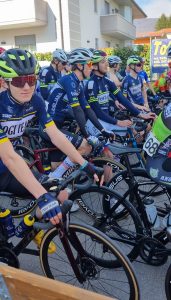 The 64th edition of the Giro delle Conche in the vicinity of Villa di Villa, has traditionally hosted the introduction to the new season for the category of older juniors. The course measures over 90 kilometers and includes many climbs and winding roads. At the race, the colors of the Pogi team were represented by: Nikolaj Gregorič, Domen Oblak, Gašper Kokalj, Matevž Zajc, Gašper Kokalj and Jakub Husar.
Already at the start, there was a fall where our Nikolaj fell and damaged the bike so much that unfortunately he could no longer continue. The riders of the Borgo molino team ensured a very fast pace at the beginning of the race, and already in the first lap out of 12, 4 riders of this team and one of the Work service team escaped. The fugitives continued in unison until the last lap, after which they were caught by a group of about 20 cyclists who then competed against each other in a sprint for the win.
In the first group, our best Domen Oblak finished in 18th place, while in the second group, Jakub Husar, Gašper Klanjšček and Gašper Kokalj also finished 30 seconds behind. Matevž Zajc retired in the third round due to a fall.
The Giro delle Conche is considered one of the classic races in the Italian cycling calendar and has a long history dating back several decades.